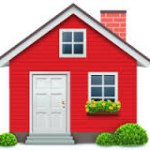 There are times we all need this article. I saw this article from Good Housekeeping with helpful tips for you and me. See what tips you need.
16 Ways to Fake a Clean Home-Fast
Need to clean up in a hurry? Whether you're expecting guests, the guests just  left, or you want to at least pretend that yours is a life of clean and  ordered bliss, pick a task, any task, for quick tips to fix your place up fast.
Master Bathroom
With its jumble of makeup, medicines, towels, and more, your bathroom hardly inspires a relaxing get-ready routine. To streamline supplies, start with a deep clean: Shed expired and unused items as well as bulky packaging (instead, store products in easy-in-and-out jars, bags, and baskets). Leave everyday essentials — hand soap, toothbrushes — on the counter. Outfit cabinets with handy holders: a back-of-the-door rack for hair tools and a lazy Susan to bring bottles to the front.
Put the Living Room in Order
Run a microfiber cloth over the coffee table and other dusty surfaces, like  the TV screen. Pile magazines or books into neat stacks on the end tables;  gather all of the stray remotes in one place. Plump up throw pillows and chair  cushions (even easier: flip the latter, if possible). Use a clean corner of the  microfiber cloth to nab any obvious clumps of pet hair or dust stuck to  upholstery or carpeting. Drape throws to hide dingy chair arms or furniture strains.
Think Sink
Stop pretending you're going to rinse those dishes piling up on the counter, and load them in the dishwasher (or if not, at least stack them neatly in the sink). Run some water over drippy detergent bottles, then stick those, pot scrubbers, and rubber gloves under the sink.
Fix Up the Walls
Your best bet: A stain-repair stick like Minwax Blend-Fil Pencil in a close hue (assorted colors, $4.49 each, minwax.com for details). It's like concealer for your baseboard's blemishes. Second best: A Crayola marker can help stained-wood boards.
To read more at http://www.goodhousekeeping.com/home/cleaning/tips/g2306/fake-a-clean-house/?slide=13
Read more:  How To Clean a Room Fast – Quick Cleaning Tips – Good Housekeeping Follow us: @goodhousemag on Twitter | GOODHOUSEKEEPING on Facebook Visit us at  GoodHouseKeeping.com
Read more:http://www.goodhousekeeping.com/home/cleaning-organizing/fake-a-clean-house?click=smart&kw=ist&src=smart&mag=GHK&link=http://www.goodhousekeeping.com/home/cleaning-organizing/fake-a-clean-house-SMT-GHK#slide-1