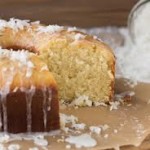 Are you looking for a favorite pound cake recipe? Try this one.
This one is a great one from my mother (Margaret Bennett)
Coconut Pound Cake
Ingredients
2 cups sugar                                    1/2 t. salt
1 cup crisco                                     1/2 t. baking soda
5 large eggs                                     1/2 t. baking powder
1 cup buttermilk                               1/2 can angel flake coconut
3 cups plain flour                             3 t. coconut flavoring
1 t. rum flavoring
Directions
Cream sugar & crisco together, add eggs one at a time
Add milk with dry ingredients which have been sifted together
Add coconut and rum flavoring
Bake in well greased bundt pan 1 1/2 hours at 325
Make holes in top of cake with toothpick.
Sauce for cake
2 cups of sugar (may use 1)
1 cup of water (use 1/2  cup if use 1 cup of sugar)
2 T. white karo syrup
1 t. coconut flavoring
3 T butter
Mix all ingredients together. Cook 5 minutes
Pour over hot cake
Let stand until cold; Turn Out
Enjoy