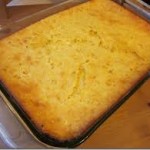 This is a favorite and Corn Casserole with our family. This is a easy dish that my daughter Jessica loves to
make.
Corn Casserole
Ingredients
2 cans whole kernel corn, drained
2 cans cream-style corn
2 eggs, beaten
1/2 cup margarine or butter, melted
1 (8 oz.) sour cream
1 box Jiffy corn bread mix
Directions
Mix all together and pour into a sprayed 9 x 13 dish. Bake at 350  for 1 hour.
Enjoy