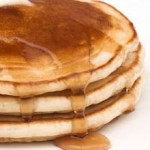 This has been a favorite recipe over the years for my family. The recipe came from Mrs. Wilkes in Savannah.                                             I added two changes. I double it for my family.
1 1/2 cups sifted all purpose flour or wheat flour                        1 egg
2 1/2 tsp. baking powder                                                                  1 1/4 cups milk
2 T. sugar                                                                                             3 tsp. butter
3/4 tsp. salt                                                                                          1 tsp. strawberry favoring
Mix well liquid ingredients and stir into dry ingredients. Mix only until dry ingredients are wet. Cook on griddle or electric skillet that is greased with butter. Cook on 350 and turn to warm in between pancakes. Cook to rim of each cake is free of bubbles and brown on bottom. Brown on both sides. Turn only once. If desired you can add your favorite berry or fruit to batter. 1/2 cup of fruit per recipe.
Enjoy