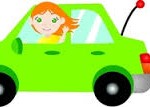 The automobile—it makes getting around a breeze, but comes with plenty of problems of its own. You have to wash it, keep it filled with gas, and avoid crashing it into things. Plus, we spend more time in our cars than you might realize. According a study from the Federal Highway Administration, in 2009, the average driver logged nearly 30 miles a day. That's over 10,000 miles of driving a year!
If you're going to be spending that much time in your automobile, take some time to make it work harder for you. Here are some simple things you can do to "pimp" your ride. No actual fix-it experience required!
The Perfect Garage Pull-In
Who knows how old this trick is, but it works. Worried about pulling your car too far into the garage, creating a collision with garbage cans, old magazines, and who knows what else you keep in there? To pull your car into the garage perfectly every time, attach a tennis ball to a string and hang it from the ceiling, so that the ball just touches your windshield. Now you'll always know exactly how far to pull in the car!
Stop Banging Your Car Door
Is your garage a tight squeeze? Stop banging the edges of your car doors against the wall when you open them with this simple pool noodle trick. Slice a pool noodle in half lengthwise and affix it horizontally to the offending wall to create a soft, foamy buffer! Use nails, bolts, or strong glue to secure it at the exact height where the door usually hits the wall. Protecting your car's paint-job will be far more satisfying than watching your grandkids fight over who gets to float next in the pool.
De-Ice Frozen Locks in Seconds
Frozen locks can be more than just frustrating; they can literally leave you standing out in the cold. Here's a surprisingly simple solution: Squirt some hand sanitizer on the keyhole or put sanitizer on your keys before inserting them. Let it sit for a minute and then try opening the door again. The high alcohol content in the sanitizer should melt the ice. Plus, it will help you keys from catching the flu!
Polish Headlights for Brighter Night Driving
Nighttime driving can be hard enough on the eyes, but years of wear and tear on your headlight covers can make headlights hazy, to boot. But there's an easy fix! Give those plastic covers a fresh polish with toothpaste. (Avoid "whitening" toothpaste and other extra ingredients that may cause additional damage.) Toothpaste is a mild abrasive, which allows it to remove buildup from your headlights just like it cleans plaque off your teeth. Rub in small circles with a soft cloth until the plastic once again looks clear.
Read more at http://www.grandparents.com/food-and-leisure/home-and-garden/car-hacks