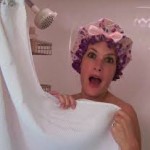 How many of you are doing something wrong in the shower that can hurt you?
Check out the following article.
 Showering. You do it several times a week, if not every day, but all that soaping, lathering, rinsing, and luxuriating may be doing your skin a serious disservice.
"The biggest problem we see for older patients is dry skin and itching, and that progresses to eczema," says Patricia Farris, M.D., a dermatologist in New Orleans and Clinical Associate Professor at Tulane University. "As you grow older, your oil glands poop out on you, so you're much more prone to dry skin. You have to adjust your bathing habits accordingly."
Read on for the most common showering mistakes you might not be aware of.
Mistake #1: Blasting the hot water
You may think a steaming hot shower is doing therapeutic good by relaxing your muscles, but a dermatologist would tell you to stick to the heating pads and save the scalding hot water for your tea. "Hot water is bad for two reasons," says Cynthia Bailey, M.D., a dermatologist in Northern California and founder of
DrBaileySkinCare.com
. "First, it
removes too much of your natural oils
(much like it works better than cold water for cleaning greasy pots and pans). Second, hot water brings blood circulation to your skin which is why your skin turns red like a lobster. With the circulation comes inflammatory building blocks to create more itch and even a rash." Dr. Bailey advises that water temperature should be tepid, meaning skin temperature or just a little warmer—especially if you have fragile skin that's prone to dryness.
Mistake #2: Showering for too long
Between the steam, streaming water, and warmth, it's tempting to spend 15, 20, even 30 minutes in the shower, but many experts say anything more than 10 minutes is too much. "You shouldn't shower for more than 5 to 10 minutes," says Dr. Farris. "Shorter is better." Long showers strip your skin of moisture, too.
Mistake #3: Using deodorant soap
It can be hard to part with products you're used to, but if you're using deodorant or antibacterial soaps, the harsh fragrances and ingredients are stripping moisture out of your skin. "Traditional antibacterial or deodorant soaps can cause extreme dryness, itching, and flakiness," says Rhonda Klein, M.D., a dermatologist in Milford, CT, and Assistant Clinical Professor in Dermatology at Yale University. "Soap-free cleansers are best for aging skin. With age, the skin becomes thinner, and loses fat, sweat, and oil glands—thus moisturizing washes are most important. Some recommended products for aging skin include Cetaphil, CeraVé, Vanicream/free&clear, and Dove."
When you're shopping for soap, steer clear of these harsh ingredients, says Dr. Klein: parabens, fragrances, triclosan, synthetic colors, formaldehyde, sodium lauryl sulfate/sodium laureth sulfate—all can aggravate your skin and cause contact dermatitis and abnormal dryness.
Read more at http://www.grandparents.com/health-and-wellbeing/health/showering-mistakes?utm_source=newsletter&utm_medium=email&utm_campaign=nl772&utm_content=templateb