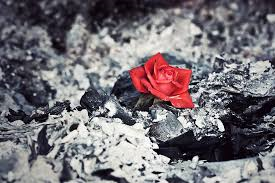 When I finished up the Mothers-in-law Rejoice exhibit this week, I was thinking about the hurts and pains that were shared with me. I am so glad that God gives beauty for ashes. In Isaiah we see,
"to provide for those who mourn in Zion;
to give them a crown of beauty instead of ashes,
festive oil instead of mourning, and splendid clothes instead of despair. And they will be called righteous trees,
planted by the Lord, to glorify Him." (Isaiah 61:3)
As a Mother-in-law beginner, I thought my relationship would be like my relationship with my mother-in-law, good. Needless to say I did not begin to know anything about the mother-in-law/daughter-in-law relationship. At the beginning, my expectations were shattered. I had ashes from the start. What are ashes? Ashes are what is left over after combustible material has been burned. This relationship was flammable from the start. I had never comprehended all the factors that go into an in-law relationship before. There were differences in age, upbringing, parents, states, faith, experiences, expectations and many other things that come to the surface.  As everything mixed together, I begin to burn and burn some more. As a mother-in-law, I saw myself as a failure. As a Christian, I couldn't understand how I couldn't make this work. Aren't all Christians supposed to get along? As a Pastor's wife, I was ashamed and embarrassed that I couldn't seemed to make this relationship work. There were women in our church that seemed to have the perfect mother-in-law/daughter-in-law relationship or were they hiding it too? I looked at my ashes and in humiliation asked God for help. Though His guidance and my desperation, I began to study Naomi and Ruth's relationship.
In the study of God's word, I began to see how God had intended the relationship to be. Before I ever became a mother-in-law, God had ordained that I would be one. God determined in His plan for families that children would have parents. The children would grow up and marry and boom mothers-in-law were created. In His perfect plan mothers-in-law have a purpose. We are part of God's plan. In His plan we are special.  God intended the mother-in-law/daughter-in-law relationship to be one of love, caring for each other, peaceful, and acceptance. The world has taken something that God created and made it a bad joke. God never intended that. The Bible gives us verse after verse of how we are to treat each other. I began to realize, I could not put exception clauses on those verses. I had to treat my daughter-in-law the way all the one another verses tells us no matter what I was feeling. I was to love, be kind, accept, have peace, and more. As I began to obey, God's word then and only then did God start to give me beauty in my ashes. The message translates beauty as a bouquet of roses. God gives us beauty on the inside and something beautiful on the outside. On my darkest days as a mother-in-law when I am just laying in ashes, God would give me something so unexpected. No, it wasn't a cruise to Hawaii but on a dark day a encouragement card can be just as awesome.
As God heals on the inside of us then the beauty starts showing on the outside of us. Does this mean our in-law relationships are any better? No, it does mean God is taking my ashes and your ashes and replacing them with beauty. God doesn't just leave it at that. Not our God, He does more. He pours the oil of blessings on us. He gives us beautiful clothes of hope to replace the clothes of hopelessness. This verse is such a comfort to me as a mother-in-law. I do not always get things right and some days I feel like I don't get even the small things right. God takes my heartbreak and replaces it with beauty. If nobody tells you, you are beautiful, God does. He takes our ashes and gives us a bouquet of roses instead. Being a mother-in-law can just be hard sometimes, but God never intended us to just lay in our ashes. He intends for us to rise up out of our ashes and let Him put beauty in the midst of the ashes. Rise up out of the ashes, smell the flowers, see the blessings and glorify the God that makes you beautiful.