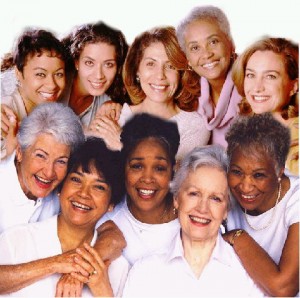 What do we mothers-in-law have to say? Women are portrayed as always having a lot to say. We are the busy bodies who are always in the middle of things sometimes especially when our control issue gets high. We are the women who are always portrayed as having a lot of advice to throw any direction we can pitch it. What are the things that we would like to really say at the beginning of an in-law relationship.
Accept the mother-in-law as the mother who has cared for this woman or man all of their lives. Accept that her love is tied to them from before they were born. Her love doesn't decrease because of a date on the calendar. She has enjoyed the awesome things in their lives. She has loved the hugs, kisses and talks along the way actually she has come to expect them. She has given up sleep to care for this person who has married. She has given up over the years what she would have wanted to do for what they wanted to do. She has sacrificially given of her time and money along the years. Accept that the mother will know more about them than you do. She knows the history because she has lived it. Accept that her love isn't in completion with your love. It is a different love. It is a mother's love.
Mothers-in-law are just normal women who through God have been able to do extraordinary things in our life. Mothers-in-law have the same emotions and feelings that other women have. In movies and TV shows, mothers-in-law are being portrayed as being critical, cross and unloving. Mothers-in-law experience being happy, sad, joyful, fearful, hopeful, frustration and many other emotions. We are human. Mothers-in-law have days when we just don't feel well. We get sick or just have an emotional down day. Mothers-in-law sometimes are very busy women with busy schedules. We try to maintain our schedule and also be apart of the lives of our family. Mothers-in-law have been through many different experiences that affect how they live and look at any situation. Mothers-in-law are very normal women who God has turned our struggles into strengths. We are not perfect. We make many mistakes. During our normal lives God turns our ashes into beauty to make an impact of the lives of many people.
Remember there will be conflict at points. The in-law relationships involve several different people with several different view points on any issue. Many things go into how any of us looks at any issues. We all have different histories. In many relationships, different cities, states and even countries are represented. Each person grew up with different parents. There are times when the influence of different denominations and religions also affect how each person looks at an issue. Each person has a different emotional makeup with different needs. There will be different personalities that will be represented in any in-law relationship. When you take into account all the differences that are represented, in any in-law relationship, it is a wonder that there is not more conflict. As we take into account our many differences, remember two words. Forgiveness is huge. We have to be willing to forgive in our conflicts. We may not get the solution we want but we forgive anyway. The other word is grace. We have to extend grace. God extended unmerited favor to us. We did not deserve it. We may not feel like the person we are in a conflict with deserves grace but we extend it anyway. God gave us grace so we need to give grace. Conflict is never easy but if we take into account our differences and remember forgiveness and grace, we will be able to handle the conflict.
Have patience with our family. As daughters-in-law and sons-in-law join a family, many differences come to the forefront. One may have grown up with one or two siblings with a quieter house and another with a loud house of many siblings. One set of parents or grandparents may not have a post secondary education and another with several degrees on their wall. Patience comes with staying with family that is very different than yours. Patience comes when the Thanksgiving and Christmas times are not like what you are used to. Patience comes when family members do not respond like what you are used to with your family. Love is patient. Love is kind. Patience is easy when everything is the same. Patience becomes harder when there are big differences between families. Nehemiah tells us that God is a forgiving, gracious, compassionate, slow to anger and abounding in love. If we are to all have patience within our family relationship, then we are to follow God's example with us. As God is patient and slow to anger with us, then we are to do the same. Having patience with family is not shown by just keeping our distance. That is not the example that is modeled by the God in Nehemiah's day. God was and is patient with us up close and personal. Patience is a gentle, long-suffering attitude that brings peace and joy in our relationships and in us. Responding with patience may go against everything we grew up with but it is worth the effort. It will go along way in strengthening our relationships.
All advice that is given is just that advice. Parents have many strengths and experiences that we have learned from. From these experiences, we hope to help our children. Mothers do try to guard our advice but there are times when the advice just trickles out. According to Murphy's Mothers Law, "Mothers only offer advice on two occasions: when you want it and when you don't." When advice is given, please do not feel like it has to be taken. In the definition of advice is the word recommendation. Advice is a recommendation. With any recommendation comes a choice of whether to take it or not. Times have changed. We have gone from wanting advice from seniors to unsolicited advice is considered meddling and controlling. Parents have lines that have been drawn by our culture. Unsolicited advice is a no no. Parents have a decision to cross the line and give unsolicited advice or not each day.  Proverbs tells us that we are to "listen to advice and accept instruction" and a "wise man listens to advice". There are two words that are important for parents and adult children to remember in relationships. For parents, the word is caution. We need to exercise caution in any advice that we may want to give. For adult children, the word is listen. Most advice is worth listening to. Take what you can use and discard the rest. In two different verses in Proverbs, we are told to listen to advice. If parents will exercise caution and adult children will listen, then conflict can be reduced. When conflict is reduced, than relationships can grow and blossom.
Please keep the lines of communication open. Healthy extended families are shown by honest communication and investing time in each other. As parents and parents-in-law, we still want to stay connected to all the family. We want to know when important things happen to the family. With social media in full demand now, it is easier to be kept informed. It is important to Facebook message, text, or call when big things happen. As parents we don't need to know every detail but please keep us inform on big things before the Facebook audience. Please keep us informed on moves, grandchildren's school and church programs, sickness, trips and more. For grandchildren, staying in touch with the grandparents on a regular basis can be reassuring and offer the children a sense of comfort. It can be difficult on the children when they do not know if or when they will hear from their grandparent. Healthy families have a high level of kindness displayed among family members. This is demonstrated largely by an interest in others. We show our interest in each other by keeping each other informed. This is shown by each member of the family. Positive and supportive relationships with family members can be possible to some degree, if we each work on our own part. If we do not relate to our family, this can destroy whatever relationship that exist. The choice is ours on what kind of relationship we want. Do we want to consistently make an effort of kindness by keeping the lines of communication open? I pray the answer is yes.
Please help me be a part of my grandchildren lives. Please don't feel like I want to determine if there are children or how many. That is clearly the decision of the two married adults. If there are children, we want to be apart of their lives. Grandparents want to build a relationship with their grandchildren. We want to talk to children. With some long-distance relationships, this may take help from you with helping the children with the phone calls. We have special places we want to take the children. We get as excited as they do with seeing the animals at the zoo. We love to see their excitement on rides. We will spend the extra money to watch them do things they love. Please permit overnight stays earlier than later in the child's life. This also helps the child get used to overnight at grandparents before fears of overnight abounded. My daughter-in-law and son allowed us to take our first as a toddler overnight and the other two before one.  They were so used to coming to grandma's that they didn't cry when they were left. We were able to take them on trips to visit great grandparents without tears. This allowed time with long-distance great grandparents that they would not have had. As long as they were with grandma and granddad, it was ok to be in a different house. A study by Oxford found that children were happier if grandparents were a part of their upbringing. The study showed that only grandparents that did things with their grandchildren had a positive impact on their lives. This study found that relationships between grandparents and grandchildren buffered the effects of adverse life events. We want the best for our grandchildren. Thank you for helping us provide a positive and loving grandparent relationship with our grandchildren.