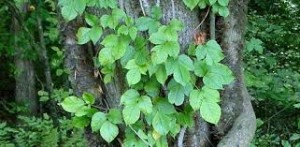 As I was working in the Poison Ivy behind our house Saturday, I was thinking God should have put an ending length on Poison Ivy. Poison Ivy vines start up a tree and wrap its vines around the tree and all the branches as it grows. It reminds me of a squid with its long tentacles. I have pulled vines out of trees that were twenty feet long. Nothing seeming can escape the Ivy. Poison Ivy reminds me of sin in our lives. Poison Ivy can grow in almost any environment. I cut it in the winter just like I do in the spring. The enemy doesn't need much room to push sin into our lives. All he needs is a tiny opening in our lives to encourage us to sin. Any time will do. When he sees a hurt that has festered, a lie that is just so easy to tell, a feeling of our importance and an unmet want, he moves on in.
Poison Ivy is a tough plant. Once it takes root, it is hard to get rid of. I have tried to get rid of roots out of my ground that were three inches in diameter. Sin is like that in our lives. Once we believe the lie of how right we are to allow the hurt to fester and think about it every day, then hurt turns to bitterness. The root underneath grows as the vine above the ground grows. Poison Ivy will grow up, down, around and just about any direction as it moves. It will branch off of its own vines and roots. Once bitterness begins to grow, it will go in many different directions in our lives. Everything in our life will be covered by it. Once we tell a lie, then that lie grows into more lies.
Many people do not know that Poison Ivy also can produce flowers. They are very aware of the rash that comes from the oil of the Ivy. Sin can look pretty good at points. We can believe every lie that comes. When I am working in the Poison Ivy, I have to be very care not to get the ivy oil on my skin. If you have every had Poison Ivy blisters once, the memory will not be erased. The blisters remind me to be extra careful with my cover ups.  I know I need to cover my body up to my neck and to be extra careful with my face.  With sin, we have to be extra careful to close any door that can be opened in our lives. In order to do that, we have to measure every thought we think by the truth of God's Word. We have to be in prayer and Bible study every day.
The easy thing for us is just to distance ourselves from any pain, hurt or trouble. It would be easy for me to just not go near the Poison Ivy. If I want to rid the Poison in my woods then I have to go, cut, clear and spray to get rid of it. Jesus was among the saints and the sinners. He worked in the midst of everyone. I cannot avoid hurt and trouble. It is just a part of life. Poison Ivy is just a part of my woods whether I want it or not.
James says the "one who knows the right thing to do and does not do it" sins. I know from experience what I need to do to protect myself from the Poison Ivy. It is a plant with poison. I know from experience what I need to do to protect myself from sin. The enemy sits and waits for any opening in my life. There have been many times I have been unprotected in my relationships. Each day that I have not met with truth and prayer is unprotected. When I shield myself with Him, the enemy will have no place to distort my thoughts, steal my ambitions, discourage me and steer me away from God's truth. Poison Ivy is there. How I shield myself, can be the problem. Sin is there. How I protect myself is the issue.