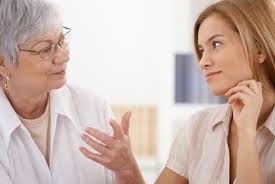 When I became a daughter-in-law, there were not any how-to books. I just did the best I could. My mother-in-law was the one God knew I needed. She made the position of being a mother-in-law look easy; however, I quickly realized it was not easy. The loving relationship I have enjoyed with my in-laws over the past 33+ years didn't happen overnight. We all made a real effort to have an awesome relationship. I'm sure my mother-in-law, Mattie, expected certain things that I did not deliver.
The book of Ruth has many lessons for the in-law relationship that many of us struggle with. From the book of Ruth we have, up close and personal, lessons we can learn from how Naomi and Ruth's relationship. I will be taking us through lessons I have seen of how a daughter-in-law responds to a mother-in-law. This is a continuation of the 1-21 lessons.
22. Ruth shared food with her mother-in-law. "She carried it back to town, and her mother-in-law saw how much she had gathered. Ruth also brought out and gave her what she had left over after she had eaten enough." (Ruth 2:18) Ruth had worked diligently that day. She could have asked Boaz for one of his servants to carry her grain back but she could do this herself. Proverbs says "the diligent man prizes his possessions". Ruth had been blessed that day and she was happy to carry her load for the town called "house of bread" to see. Ruth went on home to see her mother-in-law instead of stopping somewhere else. She was excited to show and tell her mother-in-law the news of what God had given them that day. Ruth had the ultimate show and tell. When Ruth returned home she shared with Naomi what she had left over from the meal. Ruth could have throw this food away but instead she saved it for Naomi. How much stuff do we throw away instead of giving it to someone who needs it? Probably a lot. There may be a elderly person on your street who could use your leftovers for a meal. Ruth had a better meal that day than Naomi. She had eaten along side Boaz. She had dined on the best Boaz had to offer for his servants. Instead of being selfish, she saved not for herself but for another. She saved from what God had blessed her with to give to Naomi. I Timothy 5:4 tells us  "But if a widow has children or grandchildren, these should learn first of all  put their religion into practice by caring for their own family and so repaying their parents and grandparents for this is pleasing to God." Ruth was first putting her faith into practice by providing a leftover meal for Naomi. She was caring for Naomi like children should care for their widowed mother.
23. Ruth and Naomi shared conversation about the events of the day. "Her mother-in-law asked her, "Where did you glean today? Where did you work? Blessed be the man who took notice of you!" Then Ruth told her mother-in-law about the one at whose place she had been working. "The name of the man I worked with today is Boaz." she said. "The LORD bless him!" Naomi said to her  daughter-in-law. "He has not stopped showing his kindness to the living and the dead." She added, "That man is our close relative; he is one of our kinsman-redeemer." Then Ruth the Moabites said, "He even said to me, 'Stay with my workers until they finish harvesting all my grain." Naomi said to Ruth her daughter-in-law, "It is good for you, my daughter, to go with his girls, because in someone else's field you my be harmed." Can you see Naomi's excitement? She couldn't get the words out fast enough "where in the world have you been to get so much grain." Naomi was excited to see Ruth. Ruth's excitement burst forth just as Naomi's. The conversation was more than yes and no answers. They are both so excited to talk about all that had happened to Ruth in Boaz's field. Naomi is so thankful of what Boaz did for Ruth that she wants God to bless him and not just one but two blessings. Naomi can see God's blessing on this family again. These two had survived. They could sing the song, "I have survived". Naomi knew that God is the only reason they had survived. Naomi tells Ruth for the first time about a redeemer. Ruth had met the man that God would use to provide redemption for these two widows. God had provided a redeemer even for this Moabitess.  The word redeemer would mean more to Ruth as she continued in Bethlehem. Their conversation involved both of them. The conversation was filled with answers to questions, blessings, information, and advice. The reason each could talk through all that had happened is there was something before the conversation. They had a relationship that been built on time, events, and love. They had spent time together over the years. They had shared closely events in their life. Through the time spent together and the events shared, they had developed a loving relationship. Did this happened over night? Absolutely not. This happened as they both worked at the relationship. The whole conversation was a result of what they had worked on relationally for years. They had not given up, backed away or shut up. They had stayed with it. That is why they could share so much together. This conversation is so much more than that evening, it is a relationship that has worked.
24. Ruth was not threatened by Naomi's advice. "Ruth stayed close to Boaz's young women and gathered grain until the barley and the wheat harvests were finished.  And she lived with  her mother-in-law." (Ruth 2:23) People tend to not take advice. Even when its free, we want to do our own thing. Our pride says, "we need to have the control of our own life." It takes humility to take advice. Someone has said, "It is very difficult to live among people you love and hold back from offering them advice." Naomi felt the freedom to give advice to Ruth. She cared about her safety. She wanted the best for her. They had built a relationship together. As parents, we go through struggles of not knowing when to give advice and when to not give advice. Many times we go ahead and give the advice when we feel like the well being of our children is involved or anything is involved. Erma Bombeck says, "When your mother asks, 'Do you want a piece of advice?' it is a mere formality. It doesn't matter if you answer yes or no. You're going to get it anyway." As Moms we tend to give advice whether it is wanted or not. Life can be simpler for us when we take advice. Relationships can be easier when we don't give any advice. Many people have missed success or at least a shortcut to success by refusing to take advice. Ruth was not afraid or threatened to take Naomi's advice. God  had a plan for Ruth's life. Ruth wanted to be in the center of that plan. Naomi's advice was not only taken for the barley harvest but also for the wheat harvest. Ruth stayed in Boaz's field through two harvests. She took Naomi's advice and stayed safe next to Boaz's servant girls through two harvests. She was on her way to a rich husband that God had planned just for her.
25. Ruth did not abandon her mother-in-law in Bethlehem. ".  . . And she lived with her mother-in-law." (Ruth 2:23b) Ruth had more than one choice when her husband died. She could have went back home, quickly married or stayed with Naomi. She chose to stay with Naomi. When Naomi decided to move to Bethlehem, Ruth had the same three choices. She chose to stay with Naomi. When Naomi moved to Bethlehem, Ruth had the same three choices. Ruth decided to stay with Naomi. Ruth had made this choice over and over again. Many mothers and mothers-in-law are abandoned. They are given up on completely and deserted. Some choose to turn away and never call or visit instead of continually trying with a relationship. Some mothers and mothers-in-law have just been partly abandoned. They are called or visited seldom during the year. This is a problem with many in-law relationships. There is even a Facebook page called Parents Abandoned by Their Adult Children for parents to share their hurt and frustrations. When sons or daughters do not maintain a connection with parents, this leaves a feeling of being disowned for the parents. Ruth was not the daughter-in-law that participated in part or total abandonment. She had a made a commitment to Naomi long before Bethlehem and she intended to keep that commitment. When she had gone through the death of her husband, she had still stayed. When she had lived with a bitter woman, she still had stayed. When she have moved to a foreign land, she lived with her mother-in-law. Ruth shows us even though difficult times, in-law relationships should not be completely given up on. She was committed for the long-term. I am so thankful that we have a God that is in it with us for the long-term.
26. Naomi gave advise to Ruth on marriage and Ruth received it well. "Ruth's mother-in-law Naomi said to her, "My daughter, shouldn't I find security for you, so that you will be taken care ? So Ruth said to her, I will do everything you say." (Ruth 3: 1,5) Naomi starts her conversation with Ruth by conveying her love for Ruth. She loved Ruth as much as a daughter  she would have given birth to. Ruth was the daughter Naomi had never had until her sons married.  In the ancient Near East, women would have security as a married woman. Naomi wanted help and rest for Ruth.  Naomi had a persistent concern to seek safety for Ruth. This was the duty of parents to seek security and rest for their daughters. We have  desire for our children to have security and a restful life. We sometimes work to hard at this. Naomi was being bold with her desire for Ruth to marry. She started with asking a question. I have learned to ask more questions with my adult children? She tells the purpose of the question is for it to go well with her. Naomi knew that God had something more for Ruth than gleaning in the fields. Every parent wants more for their daughter than picking up grain in the field. Ruth had given up the idea for remarriage. She had settled in and was satisfied with just caring for Naomi. Ruth was not looking for a husband. She was just being faithful to her God and loyal to her mother-in-law. Naomi had resigned herself to widowhood but she did not intend to confine her daughter-in-law to it. Naomi wheels were turning in her head. She had to come up with a plan and had looked at all the options. This mother-in-law's love for her daughter-in-law is overwhelming.
Ruth shows us the ultimate trust to her God and mother-in-law. Naomi had come up with a risky plan and Ruth is committed to trusting her God and her mother-in-law. As Proverbs tells us Ruth had put her trust in God with all her heart. She was not leaning on her own understanding. Who could understand all this? She was trusting a God she could not see and trusting a mother-in-law that she had followed to a foreign land. Now her trust was going to another level. She was trusting God with her life, marriage and home. A tremendous example for you and me.
27. Ruth followed her mother-in-law's advice.  "So Ruth said to her, "I will do everything you say." She went down to the threshing floor and did everything her mother-in-law had instructed her." (Ruth 3:5-6) In one verse we see Ruth made a promise to Naomi. In the very next verse we see Ruth followed through on her promise. Ruth did not hesitate to follow her mother-in-law's instructions. This was not like following a favorite family recipe. If you left out an ingredient, you might have the whole family upset with you. This was Ruth's life. This determined her husband and child. This was her future and still she followed every detail.
Naomi was pushing Ruth to make a move. Her mother-in-law gave advice that was not asked for. We all do it but that is on the list of no-no. It is not acceptable. Naomi had not read all the articles of what to do as a mother-in-law. She decided to tell Ruth out of her love for her daughter-in-law. She used her knowledge of being an Israelite and her wisdom from what God had taught her to make a decision on what to do.
What an awesome relationship for us to model when a mother-in-law can know what is best for her daughter-in-law and is able to communicate it to her and she doesn't resent it. That would be great to happen between parents and their adult children. Too many times mother-in-law and daughter-in-law live in fear and tension. We are afraid we will say or do something that will offend the other. We are so tense in each other's presence that we can't enjoy the family times together. Ruth was very committed to whatever Naomi thought best because their was a relationship that had been built. Together they had built a relationship on love and trust. Advice given,  advice taken and no issues. Wow.
28. Ruth remained pure while living with her mother-in-law. "Then he said, "May the Lord bless you, my daughter. You have shown more kindness now than before, because you have not pursued younger men, whether rich or poor." (Ruth 3:10)
Ruth has shown even more kindness by following Naomi's plan and not going after younger men. Boaz was not a young man but was certainly able to keep up with caring for his fields. Ruth could have easily followed Naomi to Bethlehem and then looked for a husband. Boaz said she had not pursued younger men. She had not followed and tried to capture a younger man. She was a Moabite. Her chances of marrying an Israelite were small as it was but she could have tried anyway. Ruth could have easily told Naomi, "The only way I am going to get a husband in Israel is to pursued and entice a man." Ruth was not pursuing young or rich men. Instead of taking matters into her own hands, Ruth waited patiently until Naomi had a plan. Naomi and Ruth followed the levirate law on a kinsman- redeemer. Ruth followed Naomi through customs and laws that she would have not understood. Since Ruth was a Moabitess, she only had a kinsman-redeemer through Naomi. If she had abandoned Naomi in Bethlehem, she would not have been able to be married to an Israelite who had a desire to follow God. Only Israelites who had no interest in following God would have married a Moabite woman. The only way Ruth had any rights to Elimelech's property and a kinsman-redeemer was through Naomi. It was all about the mother-in-law.
29. Ruth had became a woman of noble character while being with her mother-in-law.  "Now don't be afraid, my daughter. I will do for you whatever you say, since all the people in my town know that you are a woman of noble character."  (Ruth 3:11) What a change for Ruth? She had arrived in Bethlehem as a widow. She came as a foreigner, a Moabite, who had to work at the mercy of the locals. She gleaned even behind the servant girls. Ruth now is talked about at the gate as a woman with noble character. Now she was famous. They had seen her outstanding qualities. She had persevered over the years. She may have been a weak or inexperienced woman when she married but now they saw her strength and worth. They saw God's strength through her. She had went through the hardship of being a Moabite, losing a husband and following Naomi to Bethlehem. That was enough to even defeat a strong woman. She had not been defeated or lost. She had won a relationship with God, Naomi, and a people that had grown to love her. Ruth had stood by Naomi through the good and the bad. During all of that, her character had soared. Her noble character was going to be a crown for her husband.  All the people who gathered to talk were talking about Ruth. They all had noticed and God had blessed. Ruth's character was hard to find. Ruth was worth more than precious stones to Naomi and Boaz.  It was priceless.
30. Ruth followed the advice of Boaz and Naomi. "Although it is true that I am near of kin, there is a kinsman-redeemer nearer than I. Stay here for the night, and in the morning if he wants to redeem, good; let him redeem. But if he is not willing, as surely as the LORD lives I will do it. Lie here until morning. So she lay at his feet until morning, but got up before anyone could be recognized; and he said, "Don't let it be known that a woman came to the threshing floor." (Ruth 3:12-14) Ruth had a choice. She could follow Boaz's advice or choose not to. She had followed Naomi's advice and came to the threshing floor. Now she had a choice of following Boaz's advice. People do not generally follow advice. Even when the advice is good or offered out of love, people do not take adviceoften. How often do you take advice? Ruth had to have humility to stay, wait and hide. After she had made the huge effort to come, now she was to stay and not hurry back to Naomi. She had to wait and see who would now redeem her. She had to hide the fact that she had even been there. If she had listened to the fear probably inside of her, she would had left and hurried back home. Instead she decided to show humility and take the advice of Boaz. She showed a trust in Boaz's strength and wisdom. Many people miss out on success in their life because they will not take advice. Sometimes we are inches away from achieving something huge in our life but we miss out because we will not take advice. Ruth had a choice to make. She could listen to pride and fear or she could listen to that still small voice inside of her. She chose to listen to God and take the advice of a man who knew what was best for her. She was able to move on to God's best for her because she took advice. Ruth was on the verge of having everything she ever wanted and more. God laid it all in her hands because she took advice and followed the plan He had for her.
31. Naomi and Ruth learned to wait together for life-changing news. "Wait, my daughter," she said, "until you find out how things go, for he won't rest unless he resolves this today." (Ruth 3:18)Naomi tells Ruth to "Wait" This normally is not well received advice. In today's society, we want everything now. We want our food, service, coffee and everything else, now. When I would tell my children to "wait a minute", they never enjoyed the waiting and neither do we. Wait is to stay in place in expectation and to be ready and available.  Naomi wanted to stay in the place where they lived and wait for what was going to happen. They were to be ready at a moment's notice for which kinsman-redeemer would redeem Elimelech's property and widows.
There are times when we expect God to do something in an in-law relationship and He does not. We have to wait. We learn so much more when we have to wait. Mary and Martha in John 11 waited on Jesus to come. When Jesus came, they did not expect Jesus to do anything for Lazarus because he was dead. When things get difficult in an in-law relationship, we do not think God can work. We only think he can work when it is not as bad. It is only when we get desperate for God to work in the relationship that he starts working and changing us. Mary and Martha were not in a place of expectation. When Jesus came, the waiting was over but oh the glory they saw that day!(It's All About the Mother-in-law)
In Psalm 27:14, David says "Wait for the Lord; be strong and take heart. . ."  God is working even when it seems like nothing is happening. In in-law relationships, the hardest thing to do sometimes is to wait. We want to charge in and work it out. We learn sometimes the hard way, we should have waited on God. Isaiah says Yahweh longs to show us compassion and grace but instead we rush right pass Him. Jeremiah says in Lamentations 3:24 he will wait because God is his portion. In scripture we see we are to wait on God because God will answer, He is our help, shield and our portion. Ruth made the decision to follow Naomi's example and wait. She was ready for more but she would wait for God to provide the more.
32. Naomi and Ruth were both able to put the marriage of Ruth in God's kinsman-redeemer. "I thought I should inform you:  Buy it back in the presence of those seated here and in the presence of the elders of my people. If you want to redeem it, do so. But if you do not want to redeem it, tell me, so that I will know, because there isn't anyone other than you to redeem it, and I am next after you."(Ruth 4:4) In Ruth 4:1-10, we do not see Naomi or Ruth involved in the proceedings. They were waiting in the back ground. They had put all their confidence in their kinsman-redeemer. They did not feel like they needed to manage the situation. You and me would say that marriage is a life changing event. Naomi and Ruth had put this big event in both of their lives in the hands of God and who God had chosen to use, the kinsman-redeemer. We sometimes act as if their is no God. (Psalm 53) We do our own thing  and then ask God to jump on board and bless what we are doing. This does come down to a trust issue. Do we trust God and do we trust the men in our lives enough to even ask their advice? My God always gets it right. The problem comes when I do not trust him enough in the day by day to ask him to take control of the situation. Sometimes the men in our life also has wise advice, but we refuse to ask or even consider the advice.
This mother-in-law and daughter-in-law were looking to God to redeem them from all the hardship they had been through. They had put their trust in God and in their kinsman-redeemer. Boaz was willing to pay the cost to redeem these two widows. This redeemer was willing to do more than just the letter of the law. He really wanted to care for these two widows the rest of their lives. He wanted what God wanted for them. God had a plan for the care of Naomi and Ruth. They had put their trust in this plan instead of trusting in themselves. A great choice wouldn't you say.
33. Naomi & Ruth could rejoice together in the kinsman-redeemer's marriage proposal."I will also acquire Ruth the Moabitess, Mahlon's widow, as my wife, to perpetuate the deceased man's name on his property, so that his name will not disappear among his relatives or from the gate of his home. You are witnesses today." (Ruth 4:10) Naomi and Ruth had come a long way since Moab. Ruth had given generously with her life to the needs of Naomi. Ruth had given her all to her Lord and Naomi and now God was generously letting her be redeemed. Ruth had come to Israel poor, widowed, childless and more but she had given out of the abundance of grace that God had given her. Since the day that Ruth had chosen to follow God and her mother-in-law, God had been giving her grace. She had sowed generously out of what she had received and God was letting her and Naomi reap generously. Paul says in 2 Corinthians 9:8, "And God is able to make all grace abound to you so that in all things and at all times, having all that you need, you will abound in every good work." God had made grace abound in Naomi and Ruth so that in all things and at all times they had all that they needed.
Naomi and Ruth may have come to the gate by now to hear Boaz announcing twice that the people were his witness and he was redeeming property, Naomi, Ruth and preserving the name of Naomi's men. By this time, there probably was a crowd around the gate. Can't you just see tears of joy streaming down Naomi's face wherever she was when she heard the news that her long road was ending. She had traveled to a heathen land and seen her husband and two sons die. Now not only could she know she was being redeemed; she could feel it all the way down to her toes. When Naomi came into Bethlehem, the women were shouting that Naomi was back. Naomi now had something she could shout about: she was redeemed and she knew she was God's child. God had been with her though three deaths and now He had redeemed her.
34. Ruth was blessed by the elders and the people of Bethlehem. "The elders and all the people who were at the gate said, "We are witnesses. May the Lord make the woman who is entering your house like Rachel and Leah, who together built the house of Israel. May you be powerful in Ephrathah and famous in Bethlehem.  May your house become like the house of Perez, the son Tamar bore to Judah,  because of the offspring the Lord will give you by this young woman." Now blessing were coming. I like blessings, don't you? The people had seen Boaz's honor and blessings arise from the noble character they had seen in him. Ruth would be coming into Boaz's house after the wedding ceremony. Boaz would bring her into the house he had made ready for her. The people saw she was a virtuous woman and wanted God to bless her. Boaz could see that her worth was far above rubies. (Proverbs 31:10) and that was one of the many things he loved about her. Marriages should be blessed. Ruth had had a closed womb while married to Mahlon. They asked God to open her womb and give Boaz and Ruth children. They were asking God to bless this cursed Moabite and give her a place among the matriarchs of Israel.
The blessing asks that Boaz would have good standing and a good name through the children that Ruth and Boaz would have. Too many times we hinder the relationship with our spouse and his parents because of our likes and dislikes. As spouses we are to do everything in our power to enrich our in-law's relationship with our spouse. God wants to use children of all ages to honor the name of their parents. If we as in-law's get in the way of doing that, we disrupt the relationship God ordained between parents and their children.
Tamar, like Ruth, had been a childless widow. God had blessed Tamar with twins after she planned to get Judah to take action. Naomi and Ruth had come up with a plan to get Boaz to take action as their kinsman-redeemer. God had taken plans from these two widows and blessed them and they ended up in the genealogy of Jesus Christ. The legal proceedings had turned from religious leaders and people who had gathered at the gate into a mood of excitement. It was no longer stale or proper but rather a joyous occasion filled with anticipation for what God was going to do. Blessings filled the air.
35. God was faithful and blessed Ruth with a child and Naomi with a grandson. "Boaz took Ruth and she became his wife. When he was intimate with her, the Lord enabled her to conceive, and she gave birth to a son." (Ruth 4:13) Life had not turned out the way either one of these two women had planned. Life had not turned out the way either one of these two women had thought. Life had turned out better. I had always wanted boys. God gave me four boys. I gave up hope for a daughter. I had convinced myself I was not going to have a girl. When my fifth child was born, you guessed it; it was a girl. God had given me the daughter I had always wanted but had given up all hope of having. Can't you just hear the excitement between Naomi and Ruth when Ruth found out she was pregnant? This childless widow was now feeling something she had never felt before. They must have been the talk of the town. God was blessing Naomi and Ruth. God was giving them a heritage and a reward. "Sons are indeed a heritage from the Lord, children, a reward." (Psalm 127:3)  God had raised up these two poor women and seated them with nobles. "He raises the poor from the dust and lifts the needy from the garbage pile in order to seat them with nobles—with the nobles of His people." (Ruth 113:7-8) 
God through very different circumstances had allowed Naomi and Ruth to be a part of the next generation in their family. What happens to us when life doesn't go as we had planned? Naomi and Ruth were left widowed and childless? Was this the end for them? When life seems to end, it may not be the end of something. It may just be God changing our plan to His plan. Naomi and Ruth had to move. Was this the end for them? When locations change for you or members of the family, it may be the beginning of something new. Naomi stayed home and Ruth went to work in Boaz's field. Was this the end for them? Many times changes occur within a family financially. God sometimes uses it to open up new opportunities, relationships and growth within us.
My family has not turned out the way I had planned. Locations have changed. Relationships have changed. Children and grandchildren are different then what I had planned. When life doesn't turn out the way you had planned, growth happens. I have grown spiritually and emotionally through life's changes for me. God took my plan and turned it upside down and shook it up and down. As my plan was changed, so was I changing. God has used my changes to make me more accepting of differences, tolerate of change and open for His will in my life. Life changed for Naomi and Ruth but oh the blessings that came because of it.