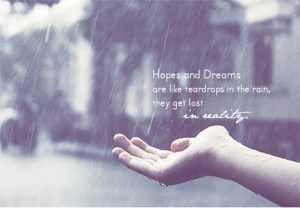 Do you think you are too old to dream for yourself? Yes, many of us are ages from 50-90. When we get to be our age, we are looked upon as being silly to talk about dreams for our self. It is ok to dream for our children's future or our grandchildren's future but ours, Oh, no. God says, "Before I made you in your mother's womb, I chose you. Before you were born, I set you apart for a special work." Jeremiah 1:5a (NCV)
Many years ago and more for some of us, God planned for each of us to do a special work. Dare to dream about your special work. Dare to think about you.  Sometimes we do not see this special work until we are older. I am amazed at the work I see mothers-in-law doing around the world. They are moving on with the special work God has put them in. In Hebrews 11 the author says by faith he can see his dreams coming to past no matter what the circumstances. He could dream about his special work and see his dreams coming to pass. It is OK to dream about our future.
You might ask what special work could I do? God knew you from the beginning. He filled you with gifts and talents for the special work for you to. He knows the potential you have. He is just waiting on you to dream and move. Mothers-in-law Rejoice is not a special work I knew I would do until five years ago. It started with a heartbreak, a study of Ruth and a dream to help mothers. This special work was born.
Paul says in Ephesians, "God can do anything, you know—far more than you could ever imagine or guess or request in your wildest dreams!" When we submit to God's work for us then God pours His power into us to help accomplish our special work. We many times let people, figures, circumstances determine our dreams. We are afraid to dream the impossible. God works in the impossible. We see only the possible but God sees beyond us.
It is not too late to dream the impossible dreams for you. It is not too late for you to move on to a special work. God made you and put everything in you for your work ahead so get busy. God has your dreams covered.