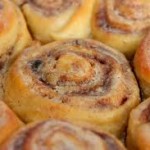 Years ago a local newspaper did a story on my aunt Kathryn Solesbee. She is a marvelous southern cook. She has co-owned two restaurants and worked at others. I cut her bread recipes out of the paper and started making homemade cinnamon rolls and dinner rolls for Thanksgiving and Christmas. They are a special treat for my family.
Favorite Recipes from my aunt Kathryn
Cinnamon Rolls
1 cup milk
1/4 cup sugar
1/4 cup butter
1 pkg. yeast
1 egg, beaten
3 to 3 1/2 cups of flour
Directions
Scald milk. Stir in sugar and butter. Let cool until lukewarm.
Add yeast and let dissolve. Add beaten eggs and flour to make a soft dough.
Cover and refrigerate overnight. Cold dough rolls easier.
Turn out onto floured surface and roll into a rectange. Brush with melted butter.
Spread with brown sugar and cinnamon. Roll up and slice 1/2 inch pieces and
place on greased pan about 1/2 apart. Let rise until double in size.
Bake at 400 about 15 minutes or until light brown. Glaze.
Glaze
Hot water
Melted Butter
Powdered sugar
Vanilla
Mix all ingredients together. Should be the consistency of thing gravy.
Glaze cinnamon rolls while they are warm and enjoy.
I triple this recipe when I make these for my family. We have a large family.