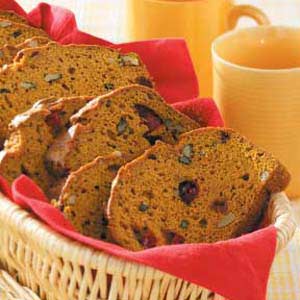 This is a favorite bread to give away and a favorite to get. I do a lot of gift giving at Christmas. We give gifts to family, church staff, preschool workers, teachers, neighbors and others. I have to come up with a lot of gifts. Fresh baked bread is a favorite to give to many as a way to say Thank you. Try it out.
Ingredients
3 & 3/4 cups all-purpose flour

3 cups sugar

4 teaspoons pumpkin pie spice

2 teaspoons baking soda

1 teaspoon salt

4 eggs

1 can (15 ounces) solid-pack pumpkin

1/2 cup canola oil

1 to 1/2 cups fresh cranberries

1 cup chopped walnuts
Directions
In a large bowl, combine the flour, sugar, pumpkin pie spice, baking soda and salt. In another bowl, stir the eggs, pumpkin and oil; Mix wet ingredients into dry ingredients just until blended. Fold in cranberries and walnuts.

Spoon into two greased 9-in. x 5-in. loaf pans. Bake at 350° for 70-80 minutes or until a toothpick inserted near the center comes out clean. Cool for 10 minutes before removing from pans to cool completely.
This will also make 6 of the small decorative loaf pans. Bake at 350 for 50 minutes or until toothpick or knife comes out clean.
This recipe is a Taste of Home recipe that I adapted for me.