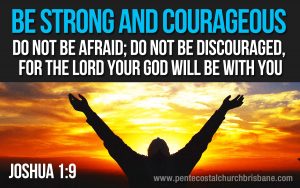 "Have I not commanded you? Be strong and courageous. Do not be afraid; do not be discouraged, for the LORD your God will be with you wherever you go." Joshua 1:9 (NIV) When we are parents of preschoolers and elementary children, we know that parenting gets hard at points. We have to discipline and follow through. In the end our children obey and love us through it each time. When we are parents of teenagers, we struggle with knowing the right way to discipline and work through each situation that rises. We seek God's guidance even more in parenting of teenagers. Discipline takes different changes and turns but normally our children accept and love us in the end.
As we become parents of young adults, everything goes out the window. When our children take a wrong path,  we do not always have a recourse. We become afraid to say what is right or say the word "no". We are afraid of what will happen if we disagree. At points we are afraid of losing the relationship if we disagree or give our opinion. Adult children can have some of the reactions that younger children have just on a grander scale. Many of us have dealt with the silent treatment. "I just won't talk to you". Adult children hold unforgiveness  at times, "I will never forgive you for what you did". Many of you have dealt with many things that adult children do when they do not like our disagreement or the word "no".
Fear swells up in us during the times our children are clearly going against the truth of God's Word. We are afraid to say what is right. We are afraid what will happen to the relationship. We are afraid. In these times, we need to remember this verse. God says do not be afraid. Not everything we say as a parent is popular with our children from the time they are little until they are older. God says to be strong and courageous. Our beliefs and our values do not change just because our children are grown. God reminds us to be strong and still show your belief in what God says. God says what ever the situation with our adult children, He is there. We are not alone. God is there to give you guidance. God is there if you choose to disagree with the path they have chosen. God is there if now you are struggling through a relationship with your adult children.
God was trying to move the  Israelites to the promised land. Not everything God told the Israelites they obeyed or even liked. For Joshua it must have been hard knowing the truth but having to push and push the Israelites to stay the course. At times the road was very bumpy, but Joshua stayed the course. His job was to get the Israelites  to the promised land. Our job is still to try to help our children find their promised land with God.  Rocky roads are unpopular roads. We all want to drive on smooth roads. The roads with our children are rocky and unpopular at points, but that doesn't mean it is the wrong road. When we hold onto the truths of God's word, we still need to communicate these truths with our children as adults.  The right road to travel with our children will have obstacles and setbacks. It doesn't mean it is the wrong road just rocky. We need to remember the goal (promised land) and stay the course. Do not be afraid. God is there to help you through the hard times in parenting adult children.