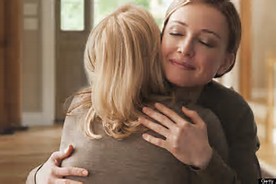 But Ruth replied, "Don't urge me to leave you or to turn back from you. Where you go I will go, and where you stay I will stay. Your people will be my people and your God my God. Where you die I will die, and there I will be buried. May the LORD deal with me, be it ever so severely, if even death separates you and me." When Naomi realized that Ruth was determined to go with her, she stopped urging her. (Ruth 1:16-18) These verses are used many times at weddings. They were actually spoken from a daughter-in-law to her mother-in-law. These verses are more than a connection between two women. There was a commitment. Connection is very poplar now. We talk about our connections with people. We tend to want to connect to people that are like us. They are around the same age, same race and like the same things. Ruth was making a commitment to a woman that was not even close to her age, not the same race and probably did not like the same things.
Ruth was doing more than connecting. She was committing to helping Naomi win. This daughter-in-law  wanted her mother-in-law to do more than survive. Naomi had moved to a land she didn't like. She had buried her husband. Her sons had married foreign women. She now had buried her two sons. Naomi wasn't winning. She was losing. Ruth could have followed Orpah and stayed in Moab but instead she followed Naomi. She committed to not let Naomi travel along. She committed to communicate with her. She committed to still be her family. She committed to help Naomi win in her travels. She committed to help Naomi win in life. She committed her life to Naomi's life.
Ruth's commitment to Naomi's life was a commitment to the unknowns. She did not know about this place called Bethlehem. She didn't know about the acceptance from a people called the Israelites. She didn't know about her safety and security. With all the unknowns, Ruth still did more than connect. She committed her life to be a part of helping Naomi do more than survive but win. What if with our in-law relationships we wanted the other person to win? What if we committed to helping the other in-law win at better physical health, emotional health, safety and more. Instead of backing away, what if we committed to setting up the in-laws in our life for success instead of failure? What if?