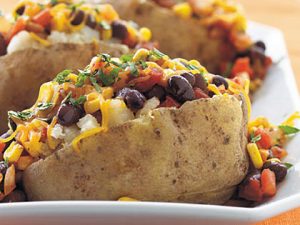 Southwest Potatoes
This is a recipe I adapted from a Pampered Chef Recipe
We love it.
2 large Baking potatoes
1 cup of Cheddar cheese
1 1/2 tsp. of Southwest seasoning
1 can of Black beans, drained
1 can of Whole kernel corn, drained
1/2 tsp. Cilantro leaves
Create flat bases on each potato by cutting off a small piece on opposite sides. Pierce each potato with a fork all the way in.
Place the potatoes in a covered baker. Microwave, covered, on High for 5 minutes.
Remove lid and turn the potatoes over. Microwave for an additional 5 minutes or until the potatoes are very soft when pierced with a fork.
Remove the baker and move the potatoes on a cutting board.
When the potatoes are cool, cut them in 1/2 lengthwise and use a scoop to scoop most of the insides into a large bowl. Add the beans, corn, seasoning and 1/2 of cheese if desired.
Pour out any juice in the baker.
Place the potato skins into the baker. Use a scoop to fill the potato skins, packing the filling down with the back of the spoon. Sprinkle cheese as desired.
Microwave, uncovered on High for 3 minutes.
Sprinkle cilantro over the top