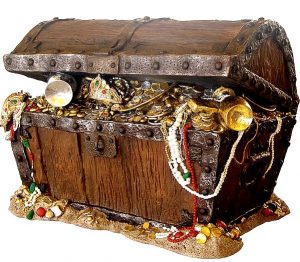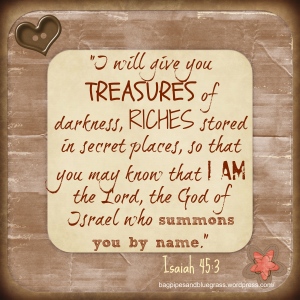 My Treasures in the Darkness
Do you like to go treasure hunting? I am sure most of you are not Pirates. You may be like me and love the Pirates of the Caribbean ride at Disney or the Pirates' movies. We love to visit the Pirate's House in Savannah and imagine what it was like in the 1700's when Pirates would visit. One of our favorite places to visit in the Outer Banks of NC is Ocracoke Island where Blackbeard and many other Pirates are known to have hung out. Many of you probably do not go treasure hunting except when you lose something valuable to you like car keys or your favorite piece of jewelry.
God says we can have treasure without being a Pirate or having a Pirate ship and crew. He will give us treasures and riches. In Isaiah 45:3, God says, "I will give you the treasures of darkness and riches from secret places, so that you may know that I am the LORD. I am the God of Israel, who calls you by your name." I like treasures and riches don't you. My love language is gifts so what does that tell you? God says when we are in a dark place, he will let us find treasures. There have been times in my life that I was in a dark place. If you are honest, you have been in a dark place before and may be in one right now.
In 2001, I found myself in a dark place. It was not something planned like going on a trip. It happened suddenly. I was as surprised at being present in the darkness as I would have been if I had been in an accident. One day I found out I was under attack by a group of people. The surprise for me was that it had happened. I became more surprised when I found out their verbal attack had been going on for two years.  I just didn't know it.  I was the last one to know. As the days went on in my dark place, my place became darker. I found myself in a place I had never been or never wanted to go. Yes, I had been through dark times. I had been through critical remarks. I had been through uncertainty in my life as a Pastor's wife. I have been through moving to a new place in ministry and trying to find my way for myself and our children. I have been through challenging times in family relationships. This was different than the tough times before. It was all against me.
So why the darkness now in my life?  The answer to that question grows out of my treasures. God does not say we will find one treasure. He says we will find multiple treasures. I will have to admit I was not in a treasure hunting frame of mind in 2001. As I allowed my mind to dwell on the critical comments that multiple people made in 1 months' time to me, I moved into depression. I described it to my husband as being at the bottom of a well and every time I tried to climb out I fell back down. There are two things I was sure of at that point in my life. One thing was I was saved, and God was the only One that could bring me out of the well. The second thing was that I had to get consistent in His Word.
My first action was to resign every job I had in the church which was a lot. I was in no shape to lead anything. I couldn't even handle me much less anything else. This action did not go very well with some people at the church. After all, doesn't a Minister's wife supposed to have at least five jobs. As a Pastor's wife, I was so embarrassed as to where I was inside that I kept it hidden from everyone but my husband. Considering how big of a mess I was that would have been hard to do anyway. Crying was all the time. Sleep was almost none existent. All I could think about was what was said. The enemy was having a heyday in my mind.
My second action was to start Breaking Free by Beth Moore. I had been in and out of Bible studies but had not been consistent over my adult years. My husband, five children and ministry always came first. We did not have a ladies' Bible study at that time in our church, so I started one on Wednesday night in 2001. Five ladies started with me. I look back at that time and realize how brave they were to start with me and hang in there with me. I'm sure they could have rolled their eyes many times as to what came out of my mouth.
During the next two years, I started every day with Bible study. When I put Him first each morning, He began to heal and keep me from doing some very stupid things that I would have regretted. There were mornings I wanted to pack my bags and run away, God's Word kept me from leaving. There were days that I wanted to stop living, God's Word kept me here. Some relationships were very hard at points. Life was just hard.
During this time God didn't heal instantly. I didn't wait up one morning and have instantly healing with a snap of His finger. No, God healed some every day. As I began to look to Him first each day for life, He began to heal. Ok, back to the treasures. During these two years as I studied His Word, He began to show me where my thinking was wrong. He began to show me more of who He was.
One of my treasures was I saw God has a Healer of me. I had seen God as a Healer of others and even my son, but I saw Him first hand as a Healer of me. He was my Healer. He healed my emotions, my mind and every part of me. He healed the broken pieces and put me back to together again over two years.
Another treasure I found in the darkness was God was to be first. I was to please Him first. Since I was a little girl I had grown up pleasing people. I tried to please to make everyone happy. I tried to please to make everyone like me. As a Pastor's wife, it was important to me to help our ministry and not hurt it. Pleasing was a big part of that. God showed me that I was to please Him above all else. This gave me Freedom. Yes, I had to relearn somethings in my life that were automatic for me. My daughter talks about how my clothing changed during this time. Instead of wearing two sizes too big, I wore the size that fit. I had to leave what everyone thought to God.
Another treasure in my darkness was God taught me that I needed His Word to survive each day. Tyranny of the Urgent caught me many days. Ministry and family were more important than Bible study, right? Many days I would try to do some Bible readings at the end of the day or quickly read a 5-minute devotional. God said very clearly that quick devotions are not going to pull me out of the quicksand when I began to sink. I asked God to never let me forget that I needed His Word to Survive each day.
One of the treasures I discovered is forgiveness. I refused to forgive the people involve in my downward plunge. You may say, "I learned as a child to forgive." Well, I knew that, but I had not learned it on this grander of a scale. Do you forgive when no one apologizes? Do you forgive when multiple people accuse you of awful things? God taught me that for me to have Freedom, I had to forgive. The enemy was using it to his advantage. I describe it this way. When I entered one of our buildings, I felt like demons descended on my shoulders. I literally held onto Rodney during that time. I would go to church late and leave early so my communication with people was less. One of the treasures I discovered in forgiveness is even when the other person or people are not seeking forgiveness from you still forgive. Freedom is an awesome treasure to have in the darkness.
I could go on and on about my treasures during 2001-2003. My life changed during that time. I do not look back at the darkness as a happy time, but I wouldn't take anything for my treasures. The treasures I found are more precious than gold to me. God brought me through the darkness to refine me and even give me presents. One of the most precious treasures I found was that He loved me and knew me. He loved me enough to stay with me during the dark times when I was ugly and a mess. Let's just say so much more than not having makeup on. His love kept Him from giving up on me when at points I gave up on myself. During the darkness He kept giving me treasures and guiding me out of the darkness. In 2003, I saw the light at the end of the tunnel and knew God had guided me through the darkness. Yes, my life will forever be changed by the darkness and the treasures that I found in it.