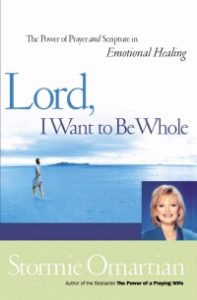 A Book in My Life
I am reading some of four books each day. One book is "Lord, I Want to Be Whole, The Power of Prayer and Scripture in Emotional Healing" by Stormie Omartian. You might say I ended up with this book by accident or God's Intervention. Two years ago, we were at our state conference at Liberty Baptist Church. Their library was giving away duplicate books. As I was looking at the books, I saw this one. God had already used books by Stormie Omartian before in my life, so I picked it up.
In January I just felt like God wanted me to pick it up and add it to the books I was reading in the mornings for devotion. Early in January, I told my husband that I should had read this book years ago. Stormie takes the reader on healing emotional hurts that we have in our life. She talks about ways God healed her emotional hurts and how He can heal ours. When I started the book, I didn't know that our ministry at our church would end abruptly at the end of January. Each morning God has used this book to put focus on what I was thinking about what had happened and healing. I have said it for years that I am always amazed how it becomes obvious why I am in a study or reading a book.
When the book was put out to be taken, God knew what would happen in my life in January. God orchestrates everything in my life even the books I read.  With any of us we have emotional hurts. If you have lived, you have been hurt. I recommend this book to every female to read. To move on in our life, we need to go through the process of letting God heal every emotional hurt we have.