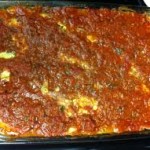 This is a favorite Lasagna of our family. If you cook your meat a day or two ahead then this recipe takes a lot less time.
Ingredients
3 pounds lean ground beef
1 t of garlic powder
1 T & 1 t parsley flakes
1 T & 1 t basil
1 t salt
2 cans of diced tomatoes
2 (6 oz.) tomato paste
10 Lasagna noodles
1 (12 oz.) Small curd cottage cheese
2 beaten eggs
1 t salt
1/2 t pepper
2 T  Parsley flakes
1/2 cup Parmesan cheese
2 Packages  (8 oz.) Mozzarella Cheese
Directions
Brown meat slowly. Add next six ingredients to meat. Simmer uncovered until thick about 30 minutes.
Stirring occasionally. Cook noodles until tender; drain; rinse in cold water
Combine next five ingredients with cottage cheese. Place 1/2 of noodles in 13x9x2 baking dish.
Spread half cheese mixture over noodles. Add half mozzarella and half meat mixture. Repeat layers
Bake 350 for 30 minutes
Enjoy