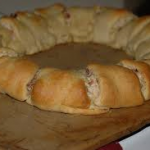 This is one of my families favorite chicken recipes. This makes two for our large family.
This is adapted from Pampered Chef.
Ingredients
3 large boneless chicken breasts
4  PILLSBURY CRESCENT ROLLS
1 cup mozzarella, shredded
1/2 cup red bell pepper, diced
1 tbsp parsley, fresh, chopped
1 tbsp Italian seasoning
1/2 tsp lemon peel
1 tsp garlic powder
1/2 cup to 3/4 cup mayonnaise
1/2 cup parmesan cheese, grated
Boil chicken until done, let it cool and then chop up
Unroll crescent rolls, arrange triangles, slightly overlapping, in a circle to look like a sun. I use baking stones.
Combine chopped chicken, red bell pepper, parsley, and lemon zest
Combine above with garlic, mozz cheese, parmesan cheese, mayo, and 1 tbsp. Italian seasoning mix
Preheat oven to 375
Spoon meat mixture evenly over dough in continuous circle
Bring points of triangles over meat mixture and to the center of the ring; pinch to hold in place
Bake 25 minutes until golden brown
Enjoy