Mothers-in-law Rejoice Tote Bag
This large tote bag is 19″ x 15″ and big enough to carry your goodies. This bag may be enjoyed to carry your books or supplies. This bag will remind you to rejoice in your everyday life. You are special and this bag will remind  you how special you are.
Buy this Mothers-in-law Rejoice Tote Bag today at a special price of $10.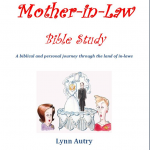 This eight week Bible Study Workbook will introduce you into the life of Naomi. The reader will share Naomi's  hurts, struggles and her joys. This study will help you learn what the Bible says about relationships and how to work through difficult situations. You will not want to miss this very helpful study. This study will be a blessing in your life. You will want to buy it today.
Please email me at Lynn@mothersinlawrejoice.com or lynnautry@verizon.net  when you purchase the Bible Study and I will send the Bible Study to you.
It's All About the Mother-in-Law
A biblical and personal journey through the land of in-laws
by Lynn Autry  $15