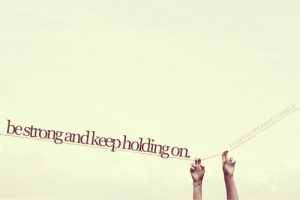 Do you sometimes feel like you are hanging by a thread in some relationships? You may feel like you are the only one hanging onto the relationship. In reality, the other person may have let go. That is the more reason you still need to hang on. We argue and sometimes do not talk to each other but we are still going to be family. Anthony Brandt says, "Other things may change us but we start and end with family." In relationships in our family you may not be able to hang on by a rope but only by a thread. You take the thread.
Have you thought of what Jesus was hanging onto on the cross? He had nails holding Him up. He had all the weight of us on His shoulders as the nails tore at His skin but He still hung on. I am so thankful that when He could have let go of us, He didn't. I am not saying all relationships are easy to hang onto but I am saying hang on even if your thread is prayer.
So when you feel like letting go, hang on. I try to live my life with no regrets in regards to family. I ask myself, "When they are gone, would I regret this?" Life is short. Love your family. All of them. Live a life of no regrets. Hang on to the thread of Hope.