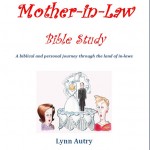 There are around 9.6 million new in-law relationships created every year and 75 percent of couples report that they have some problems with at least one in-law. Couples are often unprepared to manage the impact of an overlapping family. Marriage is not simply between two people, but is uniting two families. The relationship between a     daughter-in-law and mother-in-law can be one of the biggest challenges of married life.
How do we change all of this mutual unease and damaged relationship? The Bible presents a prime example with the life of Naomi. The mother-in-law in the Bible who like us did not always get it right but was miraculously included in God's plan for the lineage of Christ. As we look at the life of Naomi, we see God's grace poured out on a mother who had her share of tragedy but rose to spiritual and political prominence in the end.
This eight week Bible Study Workbook will introduce you into the life of Naomi. The reader will share Naomi's  hurts, struggles and her joys. This study will help you learn what the Bible says about relationships and how to work through difficult situations. You will not want to miss this very helpful study. This study will be a blessing in your life. You will want to buy it today.
Please email me at Lynn@mothersinlawrejoice.com or lynnautry@verizon.net  when you purchase the Bible Study and I will send the Bible Study to you.
It's All About the Mother-in-Law
A biblical and personal journey through the land of in-laws
 by Lynn Autry
$15 + $3 Shipping