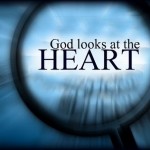 Have you been fooled before by someone. Have you expected a person to continue to act in a Christ-like manner just to be disappointed? Wouldn't you like to see inside of a person at the beginning of a relationship? We have a lesson in the Bible about the heart. "But the Lord said to Samuel, "Do not look at his appearance or his stature, because I have rejected him. Man does not see what the Lord sees, for man sees what is visible,  but the Lord sees the heart." (1 Sam. 16:7) God tells us not to be deceived when we look on the outward appearance or actions. He looks at the heart. God sees our emotions. We may can hide hurt or disappointments but God sees what we are truly feeling. Our heart shows our intentions. God sees our issues, all of them. God sees what lies behind our actions. God sees our strong will and desires.
In relationships, it is easy to look at what we can see. If you are like me, you have looked at actions and thought this person will make a great in-law. We have also looked at a person and thought they would be a terrible person to try to have an in-law relationship with. We have been deceived by looking at what we could only see with our eyes. Some of you are like me and you have lived long enough for God to show you how wrong you were. Actions spoke louder than words and proved you and me wrong. The people of Israel thought Saul would make a great King. They were deceived. This strong good looking man did not have a heart to stick with God and obey him. Young David had a heart that would follow God and have a heart after God.
We need to focus on what God sees. God sees the motivation behind the actions. We need God to implant his heart for people in our heart so that we will see the heart behind the actions.
God gave Israel a lesson over and over in this. God also gives us lessons on seeing beyond what we can see with our eyes. Judging comes naturally for us, at least for me. It takes real effort to wait and let God guide us through what we see and what we don't see.
It takes patience, prayer and self-control. When we pray and stay in tune with God, He can guide us through what we see and don't see. Patience helps us just to wait and see. Having self-control keeps us from saying and doing  what we may regret later.
When you are picking out potential in-law possibilities, remember the Saul and David story. Saul started out hiding and David started out tackling a giant. God will see what you cannot see. God sees the heart and years down the road for you.  We just see the here and now. God saw the battles David would need to fight. God sees the battles you will be fighting and who you need by your side when the war is waging in your life.
We also need to remember this story with all the people in our life. We have to leave it to God to help us see the motivations behind the actions of people in our family. He sees the heart and our sight is very limited. We can be easily hurt by what we see. Just remember God sees the insides and knows what lies underneath. Remember to pray about all relationships. Remember to have patience with all people. And remember to have that all important self-control. Our all-knowing God is in control when we are struggling with what we cannot see. Don't be deceived, God sees the heart.