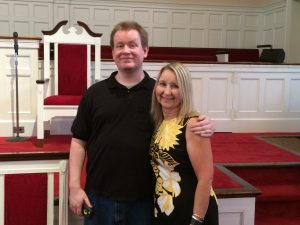 Have you asked God for a miracle? Of, course you have and I have to. There have been times that I begged and pleaded with God for a miracle in my family. The Psalmist says, "I give thanks to you, because you have answered me. You are my savior." Psalm 118:21 (GW) God had answered the Psalmist's prayer. One of the many times that I pleaded with God for a miracle was when my first son, Jonathan was born.
As I lay resting in my hospital bed after a painful delivery, the Dr. came to see me. She informed me that Jonathan had been born with a Malrotation. If you don't know what that is don't feel bad, I didn't either. A Malrotation is when the intestine fails to coil in the proper way in the abdomen. His Malrotation was also cutting off his blood flow and could be fatal. They had already requested a helicopter to fly him to Oklahoma City Children's Hospital. I called Rodney to inform him of the sad news. We begin to ask God for a miracle. He quickly came back to the hospital and we tearfully saw Jonathan before he was put on the helicopter.
We began to call family and friends and ask for prayer. They began to call people and ask for prayer. More and more people were praying for Jonathan and asking for a miracle. You see, God was the only one that could provide the healing. I believe in Doctors but God was the one who could provide the healing through Doctors or without Doctors. He was in control of Jonathan's life.
I stayed in the hospital and Rodney and a friend headed to Children's Hospital. We continued to pray. Churches started to pray. God's people were hearing about our little Jonathan that needed a miracle. When Rodney and Steve arrived at the hospital they had already done a series of tests. They saw the same Malrotation that the Ardmore Hospital had seen. Now two hospitals had seen this Malrotation on X-rays and other tests. They prepped Jonathan for surgery and sent Rodney and Steve to wait out a long surgery on this little newborn.
As Rodney and Steve were waiting and praying, the Doctors showed up early. They informed Rodney that when they cut Jonathan open and started looking in his abdomen, they couldn't find the Malrotation. Jonathan's intestines were perfect. They were in the perfect place. They looked and looked and couldn't find anything wrong. You and I know what happened. God gave us a miracle. Between the tests and the cutting Jonathan's abdomen, God touched Jonathan and gave us a miracle healing. The Doctors said they had never seen a Malrotation on an X-ray and not one when they did surgery. We testified then and still of God's healing in Jonathan's young body.
Jonathan's miracle happened on May 30, 1981. It is as wonderful now as it was then. I give thanks to God who provided a miracle to us that day. God answered the prayers of many for this little baby boy. Jonathan name means "God's gift." God gave him to us. God took him from us. Praise God, God gave him back again. We have had other miracles since that day but that was the miracle that taught this young family how much of a miracle working God we have.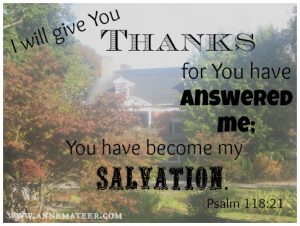 "I give thanks to you, because you have answered me. You are my savior." Psalm 118:21 (GW)"I give thanks to you, because you have answered me. You are my savior." Psalm 118:21 (GW)