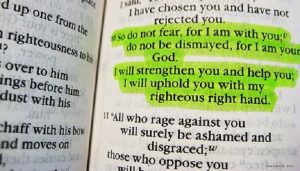 When Life Happens
"I have chosen you and have not cast you away. Fear not, for I am with you, be not dismayed, for I am your God. I will strengthen you. Yes, I will help you, I will uphold you with my righteous right hand." (Isaiah 41:9-10) There are points in our lives when we need these verses more than others. Life happens with events that you didn't expect. When a job ends, a death occurs, a relationship ends or some other life event, and we are left trying to pick up the pieces. The pieces that are to be picked up may be one piece to pick up or many pickups over time. This is my life right now. We have had a life event to happen and we are left to pick up the pieces and fit them together in a unique way in our life. This verse appeared in a book I have been reading. I know God knew I would be in this book at this time in my life. He knew I would need this assurance from His word right now. When life happens, we may feel cast away by friends or family. If your friends went with a job or church, then it becomes awkward for friendships to be as close. Rejection from people during a life event can be hard when a life event happens. Rejection takes a stab at our self-esteem. God says whatever has happened in my life and your life He chooses us every minute and every day of our life. He will never reject us.
When life happens, fear is easy to enter our life. We are afraid of change. We are afraid our life will change for the worst. We are afraid of what the next step of our life will be. We are afraid of failure. We are afraid of drowning. Stormie Omartian says in the book, "Lord, I Want to Be Whole" that at one point in her life she feared failure more than she desired success. God says to "Fear not". Why, just because He is with. We are not to doubt or be anxious. He is our God. He will not stop being our God just because a life event happens. He does not walk away from us just because our life gets hard. When friends or family leave, God stays. He sticks around to remind us that He is truly our friend and Father.
When we do not know if we have any strength for the day. God says He will give us strength. Strength for the day is so much more than physical energy. It is also emotional energy. We do not have to rely on our own physical and emotional strength because we have His. His strength is so much more powerful than ours. His strength covers it all. On days when our strength gives out, He says, "just have some of mine". When you think, I just can't deal with this today. God says, "Yes you can because you have my strength to use".
I love the last part of this verse. We are assured in this verse that God helps us. We all know He does but sometimes in our life we just need that assurance. There is nothing in our life that we must do all by our self. God is there to help us. When we are trying to figure out life, God says, "let me help". He does not have to help. He helps because He wants to. He is eager to help in any way we want Him too. One of the ways he helps us is with His protection. Sometimes we just want to be held and told it will be OK. God assures us that He holds us in His right hand. His protection is always there.
When we are drowning in our life event, God is there to assure us that He will choose us again and again. He is there to assure us that He has not gone anywhere. He has not cease to be our God just because our life has changed. He assures us again and again that when our strength is gone, He is there to give us the energy we need physically and emotionally to deal with our life. He is always there to help us. When we need to be held and protected from anything, He is there to just hold us. He is there to love us and assure us of His love through His strength, help, protection and grace. He is there for you and me.