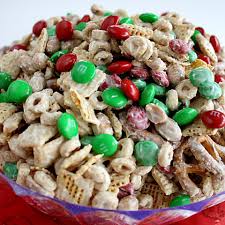 This is a favorite of the family. This recipe was given to me by a sweet friend, Ewen, at our church in Jackson, GA. I have altered it for our family. A great one to give away at Christmas to friends and neighbors.
White Chocolate Munch Mix
2 cups small pretzels
2 cups corn cereal
2 cups wheat cereal
2 cups rice cereal
2 cups oat cereal
1 1/2 cup  M & M's
1 12 oz. bag of white chocolate chips
In a large bowl combine pretzels, cereals, and M & M's. Stir in Melted white chocolate and toss to coat.
Spread mixture on wax paper on a baking sheet and put in frig for 20 minutes.
Take out and break up and put in containers.
Enjoy!